As of June 2022, Emerald Ash Borer (EAB) has now positively been identified in Dallas. It has also been positively identified in Bowie, Cass, Denton, Marion, Parker, Tarrant, and Wise counties as well. It is most likely already in Collin County but has not been formally or officially observed. The Texas A&M Forest Service (TFS) began placing insect traps around the state and monitoring for Emerald Ash Borer (EAB) in 2012. Undoubtedly EAB will continue to move in and around these known areas and it is possible that new detections will be made in other counties. If you have ash trees on your property or think you may have trees at risk, call TreeTech today to schedule a site visit by one of our expert certified arborists.
TreeTech is a tree company that offers professional tree services in Dallas, including storm clean-up, tree pruning and removal, stump grinding, tree fertilization, tree cabling and bracing, and  plant healthcare consultations in Dallas, TX. While many trees can recover from severe winter conditions, others may pose a greater risk to your property. Our team of arborists will help you determine the health of your trees, identify potential hazards, and provide sustainable solutions to preserve your growing landscape investments. Make an appointment now! Our tree services in Dallas is what you need for your trees in Texas!
Serving the Dallas Metroplex
My trees look amazing and such professional, friendly service. I highly recommend TreeTech. We had two large trees removed and the stumps grinded. Then they trimmed up all the other trees in our yard, we have an acre and a lot of trees. Santos and his team were very professional and polite.
Israel Rozemberg
2022-06-28
For several years we have used other arborists to keep a large red oak tree, but not until TreeTech and their expert crew has the tree been properly maintained. They also removed a red bud tree, and after many hours of work, they left the area spotless. Timely and really professional service
Our trees look excellent. The actual trimming time was very short, and all debris was thoroughly picked up/removed immediately.
Great work. On time. Reasonable price. What else can you ask for?
The best ever.
tom dickandharry
2022-04-09
The gentlemen from TreeTech were awesome and went above and beyond to cut down a hazardous pear tree in my yard. Randy and Santos were very professional and explained the process before and after taking down a 40+ft tree in less than 2hrs! I would definitely recommend them for as a very economical, confident and knowledgeable tree service! Thanks guys from Tree tech☺
I needed 3 trees cut back, they responded promptly when I called them, arrived at their promised time for my quote, and completed the services thoroughly, and cleaned up everything. Very happy with their time management, professionalism, and service! Excellent crew, definitely worth the call to get services from these guys. Thank You Randy and crew!
Excellent Tree Service! Prompt, Courteous and Professional. Scott and his entire group were Awesome. I highly recommend!
Kevin, Scott and their crews did a fantastic job trimming, fertilizing and removing dangerous dying trees in our community. They are professional and thorough. I would highly recommend them for any job, big or small.
I called 6 other tree guys and got all sorts of excuses. TreeTech was friendly, fast estimate, fast job. It took less than a week from the time I called them to them doing the job. Highly recommend them could not be any happier. Thank you.
Why
Choose Us?
Urban trees provide a variety of important environmental, economic, and social benefits to our communities. They are much more than aesthetic. Research has shown that trees increase resale value to residential and commercial properties.
Urban trees also increase retail sales on commercial properties by encouraging visitors and clients to spend more time in retail locations where well-cared for trees provide much needed shade for a more enjoyable space in which to shop. TreeTech strives to maximize the safety and health of our clients' trees through science, technical expertise, and years of practice.
TreeTech believes our clients' properties should be safe and beautiful and provide a sense of place for themselves and their guests.
Trees are the most dominant feature in most landscapes and are worthy of great care.
Trees should be professionally managed to minimize risk while enhancing the overall property experience.
This level of care requires purposeful planning and management that combines a high level of experience with client-specific goals or priorities.
TreeTech approaches tree management with passion and technical expertise to serve you better.
We would love the opportunity to meet with you and discuss how we can add value to your property!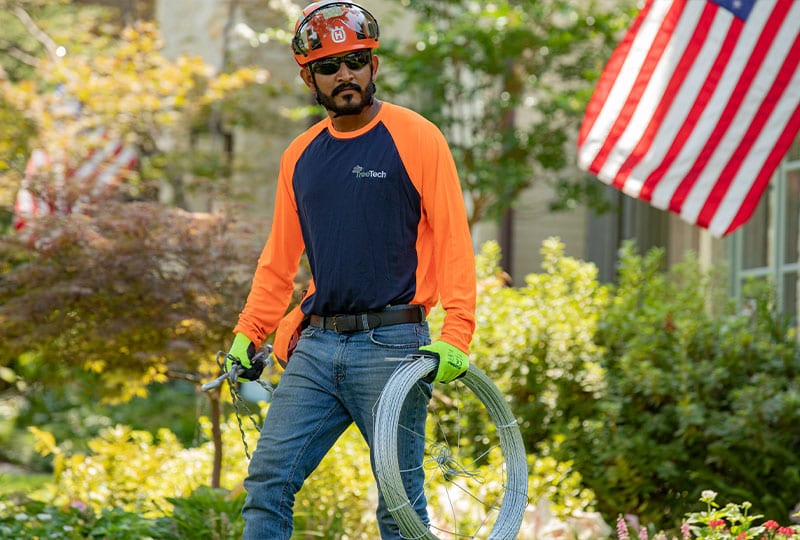 Storm

Damage?

Here in Texas, we're familiar with strong storms and heavy wind. Unfortunately, these storms have the potential to bring down even the healthiest trees and branches. If your trees have become victims of the strong winds of a storm, we can help. Our team will safely clean up the debris, remove broken branches – or the entire tree if necessary – and make sure that what remains does not pose a risk to other people, structures or surrounding trees.

Read more about our Emergency Services.